As the laundry business moves into a post-pandemic era, offering a fast, convenient, and sustainable laundry experience to your customers is the key to success, especially to younger generations.
The Intelligent Moisture Control provides accurate humidity level and drum temperature in your Domus Commercial Dryer. Via the TOUCH II control, the IMC automatically adapts the drum speed to the humidity level of the load. When it reaches the level of residual moisture desire, the IMC can stop the drying cycle or keep tumbling until the set time is done.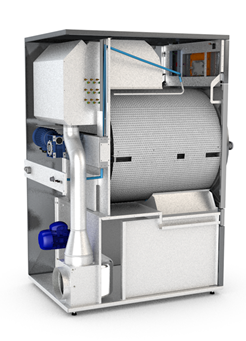 So let's review some new trends and how your Domus Dryer with Intelligent Moisture Control will help your laundromat entice new customers.
Less time doing laundry


With social distancing at the top of everyone's minds, patrons are looking to spend less time in crowded spaces. Domus dryers with IMC reduce drying times by stopping the cycle once clothes reach the set residual moisture. So your customers can leave faster (and you can have more loads per day).
Making free drying a cost-effective way to please your customers


Free drying promotions have produced positive feedback from customers. However, if your store is not recovering the cost somewhere else, it's not cost-effective. Domus dryers with the IMC save up to 13% on energy costs over standard drying cycles by stopping the gas consumption when the load reaches the humidity level set.


An environmentally responsible laundromat uses less gas than its competitors.




Millennials and Gen Z are projected to represent more than 85% of consumers by 2022. These customers are highly concerned about climate change, waste reduction, and energy efficiency, so there is no question that sustainability is an important topic. Invest in energy-efficient Domus dryers with IMC and inform your customers about the environmentally responsible practices of your store.
Extends the life of clothing




Over-drying can damage or shrink fabrics. After the water is removed during the drying cycle, the clothes absorb all the heat from the airflow, causing fabric damage, energy waste, and ultimately profits. The Domus Dryers with IMC minimizes the wear and tear effect caused by heat by measuring the remaining water left and stopping the drying process when they are dry.
In times of inflation and increased competition, Domus helps you by offering the latest generation of energy-efficient tumble dryers. Be creative and advertise how your business stands out from the other laundromats in the area.


Do you want to receive detailed information and personalized advice?
If you are thinking of improving the laundry of your business, and have some questions, call us at 1 866-463-2467 or send us an email at us.marketing@onneragroup.com